Previous meeting (week 3): Chelsea d. Tecumseh 41-26
Chelsea Varsity Football 2007 record: 10-0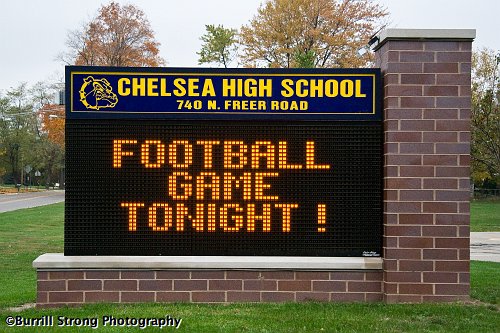 Is this exciting? Of course it is!
One of the reasons the playoffs are exciting is the prospect of playing new teams. Much of the regular season is filled with the same old conference teams, and while the familiar rivals provide their own sort of excitement, it's always interesting to play teams you wouldn't meet under normal regular-season circumstances. So, after concluding the regular season against the all-too-familiar Milan Big Reds, the Bulldogs learned that their first-round playoff foe would be the thrillingly unfamiliar … Tecumseh Indians? Wait — something's not right here.
So yeah, what I meant was that one of the reasons the playoffs are exciting is the prospect of rekindling old rivalries in the atmosphere of a playoff game. The…
Never mind. I can't type that with a straight keyboard. The idea of meeting a conference team early in the playoffs seems redundant and anti-climactic; just imagine Michigan meeting Michigan State in a bowl game. Well, okay, it might be a little too hard to imagine MSU in a real bowl game, so imagine Michigan meeting Penn State or Iowa in a bowl game; it doesn't inspire quite the same anticipation as a bowl game against a less familiar team from a different conference. Familiarity may breed contempt, but it doesn't necessarily breed the best postseason in football at the high school and college levels; at those levels, the game is more isolated and conference-driven with schedules dominated by conference teams, so challenging forays outside the conference have greater appeal.
In recent years, familiarity may not be a strong enough word when it comes to Chelsea and Tecumseh; just a few years ago (2000-01), Chelsea and Tecumseh met four times in two years — two regular-season meetings and two first-round playoff meetings — and Chelsea won all four games. By the end of the fourth game, it was apparent the teams had played two too many games in those two years; fortunately, 2001 was the end of the extra games … until this year, when the MHSAA extended its mighty hand of bracket-making and ordered another first-round playoff game between the schools.
One major concern with a playoff rematch against a team the Bulldogs defeated in the regular season is the potential for a mental letdown by the players (we beat them once, and we'll beat them again); that was my primary concern all week. But then I went to the team's pregame meal, and thanks to several different players, I learned that the Ann Arbor News had made an effort to prevent Chelsea from coming out flat; it seems the News ran an article that was not entirely complimentary to Chelsea. I haven't been able to get my hands on a copy of the article, but the players' reaction told me what I needed to know: it ensured that they were motivated.
That motivation was immediately apparent when Chelsea took possession of the ball and wasted no time in moving down the field and scoring a 12-yard Nick Hill touchdown to take an early 7-0 lead. Of course, scoring on Tecumseh's mildly porous defense was only half the battle; while Tecumseh's defense had allowed at least 21 points in every game except the first (and more than 40 in a few), Tecumseh's offense had scored at least 26 points in every game except the first (and, again, more than 40 in a few). So, though Chelsea's quick offensive outburst was encouraging, it was also expected and necessary, just in case Tecumseh had one of those 40-point outbursts.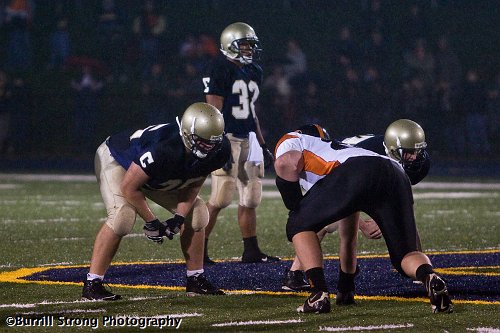 Sam Birgy does not like the way you're looking at Nick Hill.
For a while, it was beginning to look like Tecumseh was in the mood to score a few points; as usual, their Large Angry Violent Men offense took the ball and plodded down the field an inch at a time. But in an unusual twist, their drive stalled inside Chelsea's 20; after a failed fourth-down play, the Tecumseh offense walked off the field with nothing more than a sizable advantage in time of possession. And for an offense that scoffs at the concept of gaining more than 20 yards on one play, coming away with no points on a drive that lasts roughly two and a half years is disastrous; in fact, it's right up there with such worst-case scenarios as "nuclear holocaust" and "Duke University Football."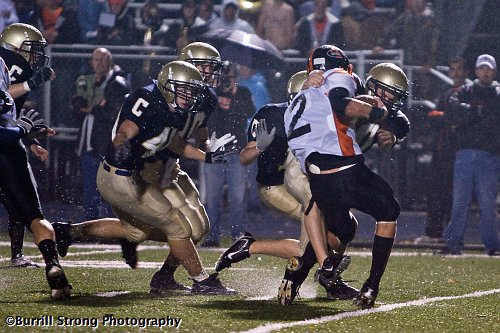 It's like rain … on your playoff game …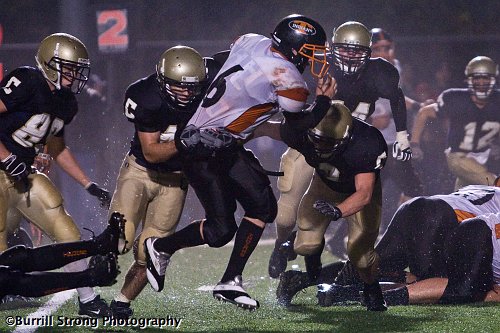 It's a first down … that you just can't make …
Naturally, the Chelsea offense took the ball down the field and scored again, this time on a seven-yard Jeff Adams run. After another stop by the Chelsea defense, the offense took the ball and … well, it didn't even march down the field this time; instead, Adams took the ball around the left end and went 78 yards for the touchdown. At that point, Tecumseh was in a 21-point hole, and it was becoming apparent that six- and eight-minute drives — a specialty of the LAVM offense — weren't going to keep it close.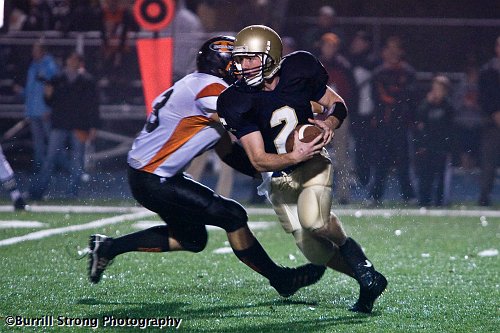 If the air were carrying the ball, this would be a great tackle.
Ah, but it wasn't all dark and depressing for Tecumseh; after Adams' 78-yard jaunt through the countryside, the Indians came back with an actual no-foolin' successful drive that ended in an actual no-foolin' touchdown. The two-point conversion was called back on a penalty, and the subsequent extra point attempt failed, but the touchdown narrowed Chelsea's lead and provided a bit of life. However, there were still nearly two minutes left in the second quarter, and based on previous scoring drives, that was plenty of time for Chelsea to answer Tecumseh's touchdown. And answer they did, with a 25-yard pass to Chris Schmelz; the extra point failed, but Chelsea still held a 27-6 lead at the half.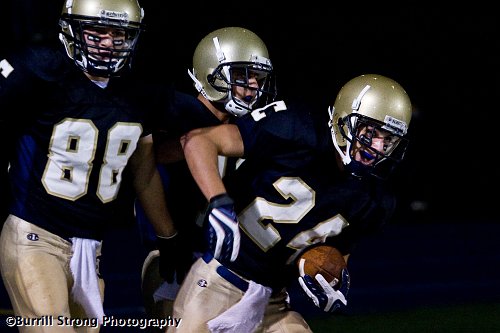 Chris Schmelz celebrates good times. Come on!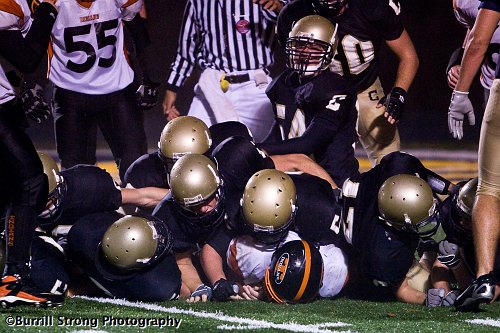 When forward progress meets the Chelsea defense, this happens.
Because Tecumseh won the coin toss and deferred, they received the ball to start the second half; the plan was to narrow Chelsea's lead with another touchdown. But the A-Team's Hannibal Smith didn't love the start of the second quarter because Tecumseh's plan didn't come together; actually, the plan fell apart when Tecumseh quarterback Andrew Simpson launched a pass that sought comfort in the arms of a Chelsea defender. Not long after that interception, the ball was yet again in the end zone. And, unfortunately for Tecumseh, it wasn't in the end zone alone; Nick Hill accompanied it on a six-yard touchdown run to push the lead to 33-7.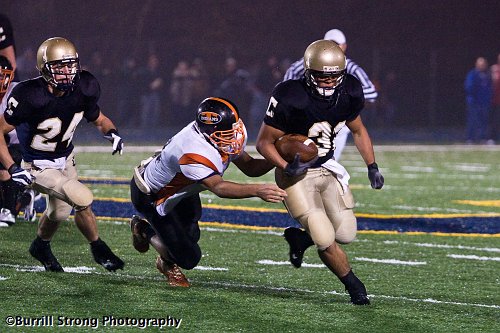 Thank you; come again.
At that point, the game was essentially over, and Chelsea coach Brad Bush began to bring in substitutes, but the scoring wasn't yet done. In the third quarter, Chelsea's Nick Avila scored on a one-yard run; also in the third, Tecumseh answered with its final points of the evening, a six-yard run followed by a two-point conversion; in the fourth quarter, Chelsea closed out the scoring with a two-yard touchdown run by Justin Swarthout (and an extra point by sophomore Tyler Zagarzewski, whose name would be an astounding play in Scrabble if the game included two Zs … and if it happened to be a legal word, which, sadly, is not the case). Before long, the game came to an end, and the Bulldogs celebrated a 10-0 record and another one-week extension of the 2007 season.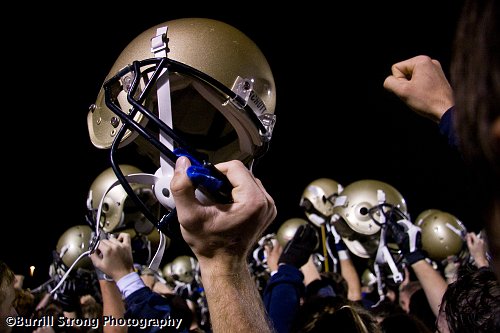 This is not how a helmet protects you from injury.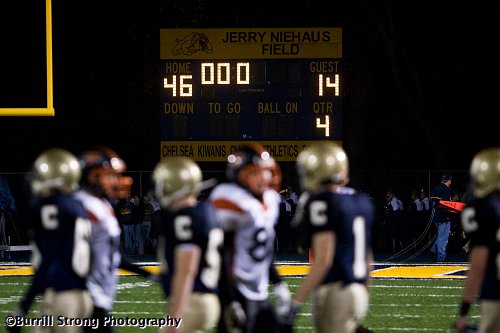 Leftovers:
The game was a celebration of offense: Tecumseh totaled 348, while Chelsea totaled 512 yards. Tecumseh's high total fits with the lopsided score because they had multiple lengthy drives that produced no points.
Nick Hill carried 12 times for 193 yards, for an average of 16 yards per carry. Of course, that's relatively unimpressive, because Jeff Adams averaged 42.5ypc and Donny Riedel averaged 41ypc. (Grains of salt: Adams had two carries for 85 yards; Riedel had one carry for 41 yards.)
Scrabblezewski wasn't the only sophomore to see action; quarterback Dakota Cooley and running back Zack Giller also got in a few snaps. There likely were a few others, too, but those were the names I recognized from the nine Thursdays I spent at JV games this year.
Ron Spears, Milan's Million Yard March, left Milan's first-round playoff game with an injury; later, the Ann Arbor News reported that "Spears … said he actually took a hit to his thigh against Chelsea in Week 9, and Friday's hit made it worse." However, he will be ready to play this week.
The MHSAA put together an SEC-filled district this year; of four teams in the district, three were SEC teams: Chelsea, Tecumseh, and Adrian. The fourth was Fowlerville, the team that ended Chelsea's season in the third round last year. It might have been nice to face Fowlerville again, but they had the audacity to lose to Adrian, and that means I just stumbled into an excellent segue for this post's conclusion.
Next week:
Chelsea faces the equally unfamiliar Maples of Adrian, which also happens to be the team that followed Tecumseh on Chelsea's regular season schedule; the game is in Chelsea at 7:00 PM. If the Bulldogs win again, there will be no more SEC teams on the schedule this season. Seriously. I know it sounds crazy and impossible, but it's true.