Dexter
As usual, the hockey playoffs started in Chelsea. And as usual, the district featured four te…uh, wait, what? The district changed this year? Gabriel Richard went elsewhere? I…I don't know what to say. Well…okay. I can adjust.
As I was saying, the district featured four three teams: Chelsea, Dexter, and Lumen Christi. The odd number of teams meant somebody got a bye. Like pretty much everything else in non-football MHSAA playoffs, I'm sure it was determined randomly, and Chelsea ended up getting the bye. (To be frank, though, Gabriel Richard tended to function as a bye on skates, so I'm not sure their departure changed much.) This left Dexter and Lumen Christi to fight it out to see who got to face Chelsea. I mean, not to actually fight it out, but to play hockey. Which…yeah, I guess that's not too different.
For Chelsea hockey, this matchup is something like a Michigan fan watching Ohio State and Michigan State play each other in anything. Dexter and Lumen Christi are the Bulldogs' most not-loved hockey rivals, so Chelsea's ideal outcome would be one in which neither team wins and the Bulldogs get hot fudge brownies with ice cream. Sadly, nobody has found a way to make that a possible outcome of a hockey game, so one of the teams had to win. The expectation was that Lumen Christi would win, but hockey playoffs can be strange, so…here, look at the photos.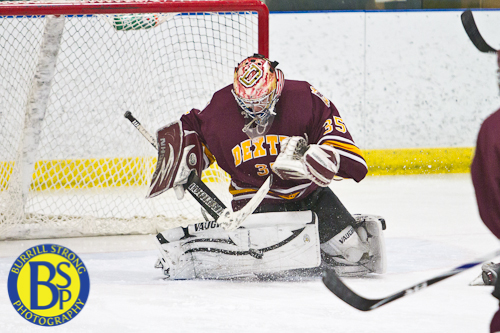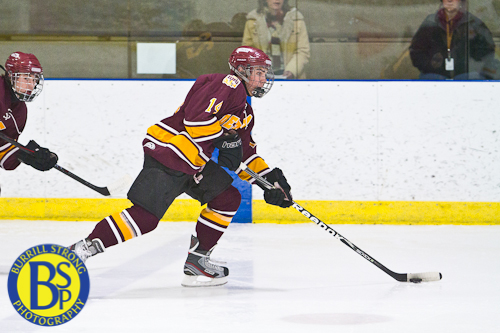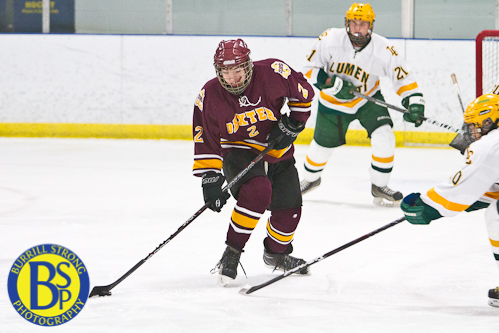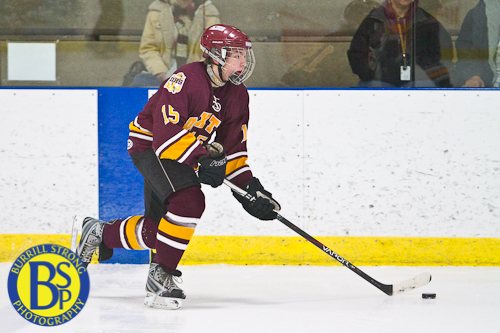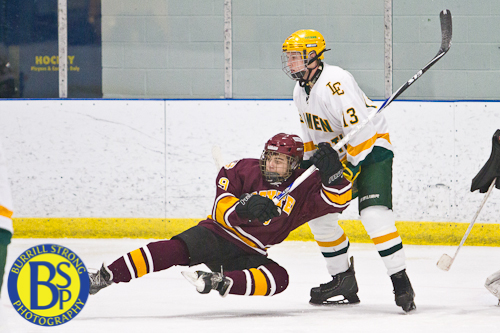 I'm including the next photo solely for my own amusement.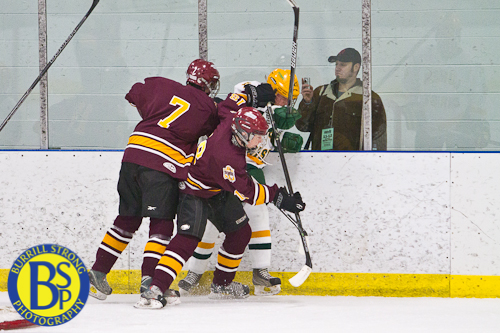 The gentleman behind the glass is Mike, the reporter who was covering the game for Heritage. You'll note that he's hard at work shooting video. Good work, Mike.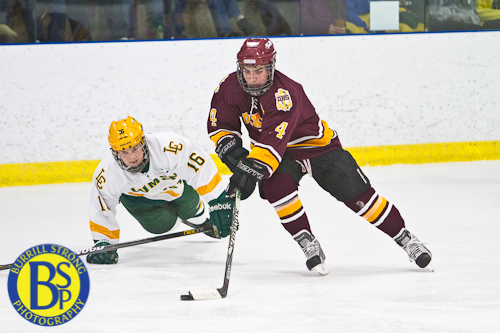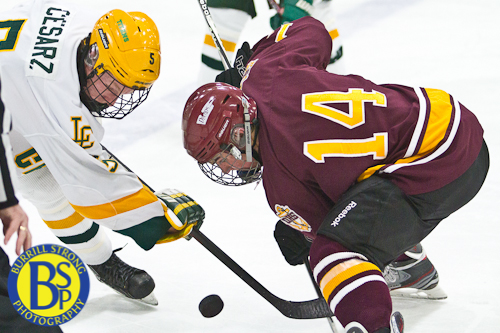 Dexter played a surprisingly good game, but it seemed like they were always a step behind on the scoreboard. For every moment like this…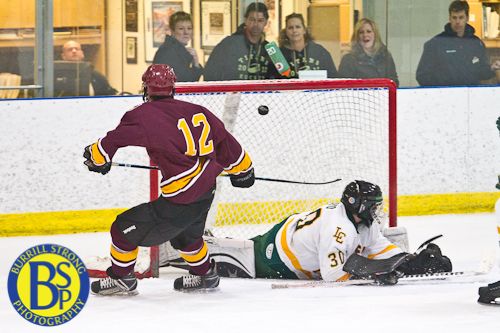 …there was a Lumen Christi goal to retake the lead. (By the way, check out the water bottle in the above photo.)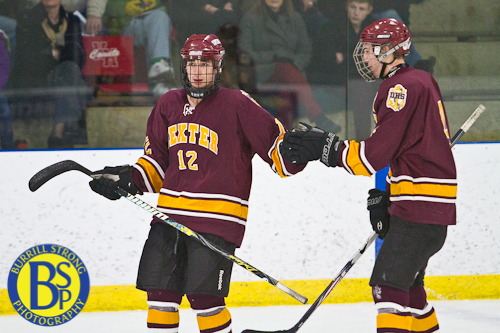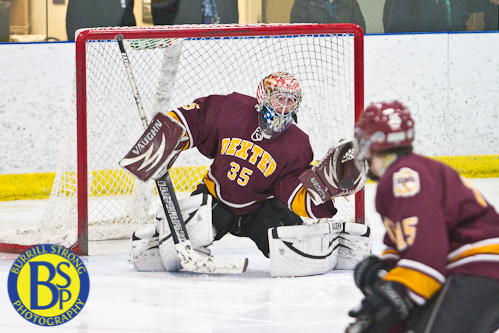 Still, the pesky Dreadnaughts wouldn't go away.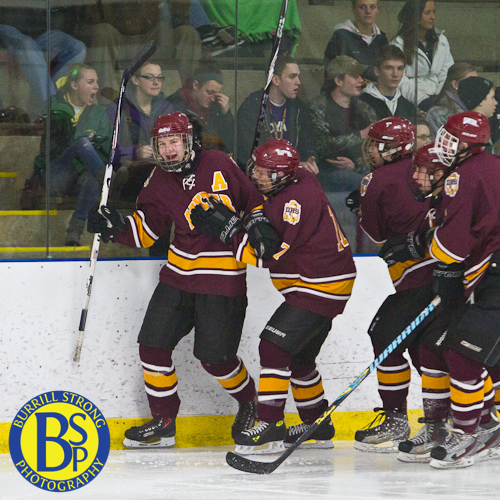 And the Dexter goalie made some great saves to keep his team in the game, perhaps none bigger than this glove save on a breakaway: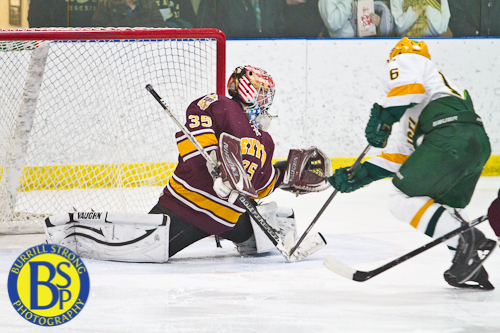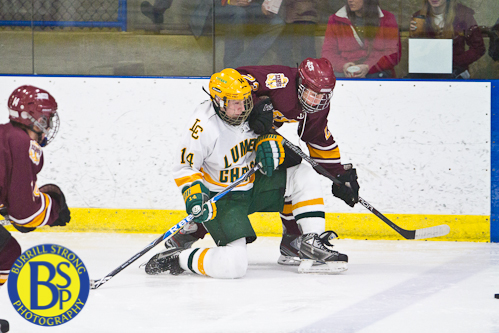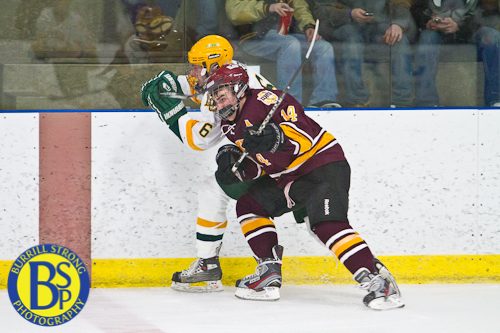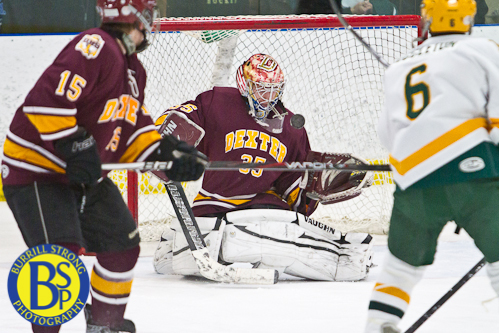 The Dreadnaughts were facing a one-goal deficit when, with under two minutes to play, they managed to get one in the net to tie the game.
And there was much rejoicing in the foreground and mourning in the background.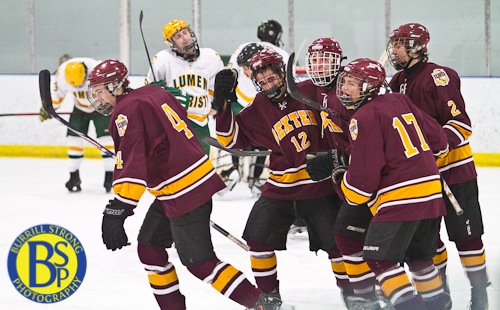 The rest of the third period passed without a goal, so they headed to overtime.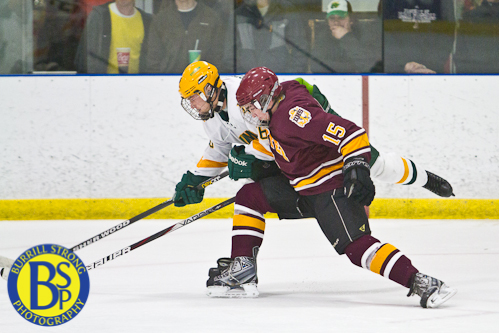 It seemed either Lumen Christi had found a new source of energy or Dexter had expended all of its energy: the Dreadnaughts struggled even to clear the puck out of their own zone in overtime. When you can't clear your own zone, eventually you're going to give up a goal. They did.
And again, there was much rejoicing in the foreground and mourning in the background.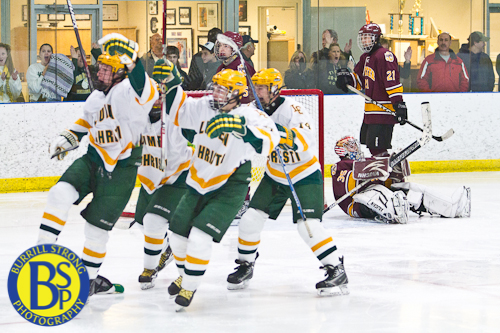 The above photo needs a little explanation. You can see that the Lumen Christi players are excited about the game-winning goal, but you can't see what they're looking at. Let me clue you in: the Dexter bench is immediately to the left. And while sometimes one frame can be misleading, in this case it's not. As they skated by, the Lumen Christi players made a point to celebrate at the stunned Dexter players on the bench. I don't care who you are and what you just won. That's not okay.
Meanwhile, the poor Dexter goalie was trying to absorb the loss.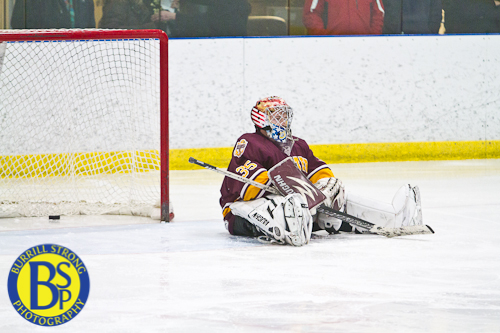 His teammates joined him.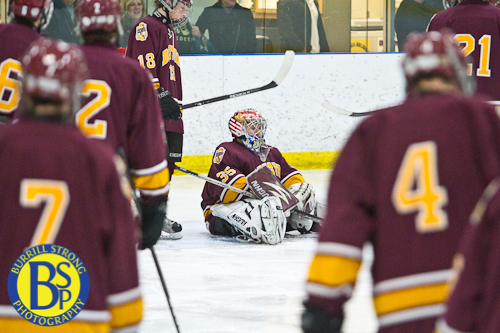 I may have fun with Chelsea's rivalries, but in all seriousness, photos like the last two are among my least favorite photos to take. It doesn't matter who's in them: I can't take joy in watching athletes deal with a season-ending loss. Those photos can be emotionally powerful, but I still don't like having to take them.
Recent Posts
Posts worth reading
Categories
Archives